I've been procrastinating on this post for a very simple reason: I don't know how I'm going to do justice to the incredible week we spent in paradise. But try I must.
As friends know, I'm a sailing fanatic. Or an all-around boating and water fanatic, really. But sailing, especially. So a trip along the Dalmatian Coast has long been a bucket-list item. Well, let me tell you…it far exceeded any expectations I might have had.
The Dalmatian Coast includes an archipelago of about 1,200 islands, which stretches from Split, Croatia to Dubrovnik. In a week, we made it to a mere handful.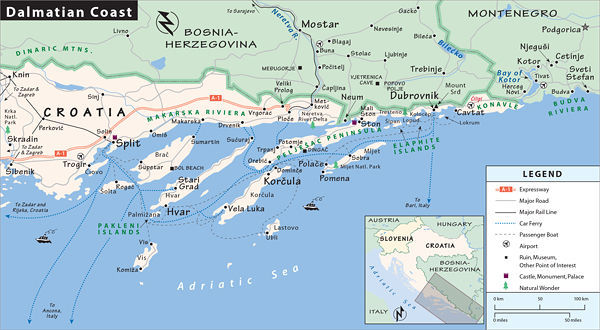 Up close, the water is crystal clear with a sandy bottom, and at a distance it's a stunning emerald green or sapphire blue, depending on the light and depth. The beach sand mostly consists of fine, smooth pebbles. The islands are mostly unspoiled. And the people are lovely.
Before leaving the U.S., we had found four, long-time friends who wanted to join us, set our dates and booked our boat through a reputable charter company, the Moorings, which we highly recommend after this first experience with them. They offer superior value and excellent customer service at competitive prices. We splurged on a 48-foot "four bedroom, four bath," Moorings-branded Leopard catamaran, though we cut some cost by getting a slightly older model whose aesthetics we like better than the newer models anyway.
By this point we had spent a month living in shared hotel rooms and compact two- and three-bedroom apartments, so it made perfect sense to test the limits of our blissful togetherness in the confines of a few hundred square feet of living space shared by not four, but nine, people. Oh, goody.
Believe it or not, it would prove to be plenty roomy and comfortable (though it meant our hired skipper would sleep in the "coffin," a tiny crew berth in the bow (front) of the pontoon, and use a small bathroom located in the other pontoon bow). We've had that many people on smaller boats for weeklong charters, so this was positively luxurious by past standards. My daughter offers a tour of the boat during the first few minutes of this video.
Speaking of the skipper, the smartest thing we did was to hire a pro, even though at least a few of us were qualified ourselves. He turned out to be invaluable and, importantly, lots of fun. His name is Igor, he's a great sailor, and he's very well connected in the charter ecosystem as a local, which makes him an awesome concierge and guide. He is also fluent in English, which helps. [If you ever charter in this area, contact me for his info.] There were many occasions when his inside knowledge and connections came in very handy. We would have been otherwise hosed (e.g., no port in a storm one night…literally).
We told him we wanted no responsibility and didn't want to have to think. His job was to show us the best of what the area had to offer, keep us out of trouble and let us relax. Our family, in particular, was completely fried and ready for a break from the day-to-day chaos of figuring out where to go next, where to eat, how to make sense of a new country, and the myriad micro-decisions one has to make when traveling. My goal for this part of the trip reminded me of the slogan at a resort I had once visited: "Give us your body for a week, and we'll give you back your mind."  Take me, I'm yours.
By the time we got to the boat on Saturday, August 19 (charters tend to run Saturday afternoon through the following Saturday morning), three of our group had arrived early and done the grocery shopping, no small feat. It's tricky to predict just the right amount of food and water needed for seven adults and two kids over the course of a week. And it's hard work to then schlep it from the store to the boat.
The rest of the group arrived, and we left the dock around 4 pm.
For our first evening, our intrepid skipper had his eye on gorgeous, quiet, seemingly uninhabited Lucice Bay, a cove tucked into the back side of the rather large island of Brac. He had reserved one of very few mooring buoys, which you conveniently tie up to for the night. This is an alternative to anchoring, which involves getting up throughout the night to be sure your or someone else's anchor isn't dragging the sea floor. God forbid you wake up to find your boat sitting on some rocks, the beach or perhaps someone else's boat.
After a quick swim, we took the tender (small dinghy with an outboard motor) over to the island for a unique experience.
The elegant restaurant we were visiting, Restoran Lucice Bay, didn't feel like a restaurant at all. Instead it was as if someone had randomly nestled tables into their thinly wooded, terraced backyard on the water, where we could watch the sun set over the hill.
The only building was a small structure housing an open-air kitchen and restrooms. Each table felt completely private. The setting was just spectacular, matched only by the amazing food. We had quite the feast of fresh, grilled fish, terrific wine and lots of great conversation. Everyone slept well that night.
That was just the beginning of a decadent week of gastronomic excess, relaxing swims in pristine coves, stunning scenery and lots of fun and laughter.
One in the group has quite the entertaining personality and kept the kids enthralled with pranks, games, jokes, magic tricks and "challenges."
One such challenge involved edible dried crickets and worms.
Our youngest gamely accepted the dare (God help us when she's in high school), thought twice, and then with gritty resolve, chewed up the crunchy insects and downed them. She immediately regretted it, though – more at the thought than the taste. Being the obnoxious parents that we are, we used it a teachable moment on the spot ("Now when your friends try to get you to do something you know you shouldn't do, blah-blah-blah…). Nonetheless, the antics were all a great distraction, since the kids were very perturbed that we had our friends along but not theirs (though we had tried…).
The next day we left that cove and headed to another island for some swimming, paddleboarding, and terrific snorkeling.
Always on the hunt for kids my kids can socialize with, I took the opportunity to casually swim up to neighboring boats and invite their kids to play. (No, that's not weird. But when you're desperate…) My kids were outwardly mortified and inwardly grateful. I did find some at one boat, but sadly we had to depart before they had finished their lunch.
Igor had determined that the weather forecast called for a night in the safety of a marina, so he used his inside connections to snag us one of the last available spots in Stari Grad, one of the oldest towns in Europe, with a population of just 2,700 on the island of Hvar and, unbeknownst to us at the time, nominated as a "best destination in Europe 2017."
These marina operations are well-oiled machines. A couple of young guys meet you in the channel in tiny runabouts, guide you to the correct slip, and help you dock your doublewide and tie up. Then they collect their money. Easy peasy.
Stari Grad and its harbor were tiny, charming and picturesque. Upon arrival, we explored the village's ancient, narrow alleys, shopped a bit, and had a marvelous al fresco dinner. My husband had the best pizza of his life, he says. Others enjoyed fresh, grilled fish.
The kids burned off a little energy at the outdoor trampoline park, and then we headed to the boat by late evening, only to find some serious karma in action.
For more pics, check out my husband's photo gallery.